"Blood donation" of King Xu Jun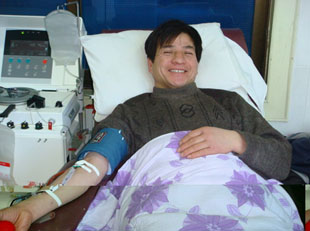 Huachang group is the blood donation work of the old advanced, there is a lot of touching stories. Below we together to meet the "blood" of King Xu Jun.
Xu Jun, born in 1967, Xi Cun people Le Yu town gate I, an ordinary employee Huachang Chemical soda workshop. He enlisted in the army in 1985, was awarded the "advanced individual" Lei Feng and other honors, in December 4, 1996 for the first time to participate in voluntary blood donation, 17 years has been dedicated to the voluntary blood donation, 2006 has served as vice captain Red Cross Blood Center volunteer team. The morning of December 23, 2012, just after the night before Xu Jun could change the work clothes, rushed to the Red Cross Blood Center, started the platelet donation. In front of him, strong body, simple and honest cute, face always hung that shy smile.
The dedication of love, his blood on the "addiction"
In the city of Zhangjiagang Red Cross Blood Center, Xu Jun is a celebrity, his profile picture and advanced deeds are hanging in the blood donation lobby entrance window. Refer to the "blood donation king", the Red Cross blood bank staff all praise. Readily open the blood donation card records of Xu Jun's, I was surprised to find that, in 2012 alone, the number of times he donated platelets is as high as 8, equivalent to 6400 ml of whole blood.
In fact, Xu Jun's blood road began 17 years ago.
That was in December 4, 1996, is a cold winter afternoon, Xu Jun came after a stop in the urban park a car donation, that are in urgent need of blood type AB blood group with him, not hesitate to embark on a blood drive, roll up their sleeves, gave his precious blood. "I had once been a soldier for 4 years in the Shanxi army, this 4 years of camp life affected my life, where, I found the goal in life: to learn from Lei Feng and Comrade Zhang Side, do the ordinary soldiers, do real thing for the people. Blood donation, to help others and even save lives, on my body and does not cause any loss, what is there against it?" Xu Jun first blood donation, is so simple.
So, when some people still fear for blood donation will bring certain disease of blood donation, but Xu Jun on the "addiction". From then on, every one or two months, Xu Jun will take the initiative to participate in blood donation. According to the regulations, can offer blood half a month, and platelet offer a no problem. Not long, the Red Cross blood bank staff know him. The city in accordance with AB type platelet donation conditions of people less and less, so, each of Xu Jun's blood donation is precious.
In 17 years, as long as that platelet Red Cross Blood need type AB, Xu Jun will ride a motorcycle rushed to the station as soon as possible, he already the blood donation into their lives.
Late one night in 2006, still in the unit on the night shift Xu Jun suddenly received a blood bank staff phone: a car accident patient's life is in danger, need a lot of blood type AB, the time of emergency. Hang after the phone, Xu Jun worried, because he knew there was a dying man is waiting for him to go to the rescue. A work, not tired, eyes bloodshot and he rode a motorcycle, park in the North Second Ring, then hit went straight to the station.
In the life of Xu Jun, examples like this emergency blood donation beyond count. Some people said he was stupid, blood donation is not only without any return may also put his body down, to this, Xu Jun always smiled and explained to them: "regular blood donation, can promote the body's The new supersedes the old., can enhance immunity and disease resistance. The drug is on production, blood can regenerate itself, the messenger I do find in helping others, and adhere to in the end, I hope more people join the ranks of the voluntary blood donation."
Benevolent love he has numerous "stroke, new blood"
"To maintain the blood before the diet, not eat greasy food, blood pressure is not too high......" Xu Jun said to me. Science is the premise of each blood donation, blood donation before, he always want to own actual situation to adjust their work and rest, diet, blood donation for continued strong foundation.
With the increasing times of donation, Xu Jun on the blood donation knowledge becomes more and more understanding. But he gradually discovered, a person's strength is too limited, since then, to launch more people together to participate in voluntary blood donation into another goal in his life.
In 2006 June, Xu Jun combined "blood donation champion" Wang Yunlong enthusiasts formed the Red Cross Blood volunteer blood donation service team, the team was established at the beginning of 70 people. Since then, the captain, Xu Jun served as vice captain of the volunteer service team by Wang Yunlong, become the backbone of our blood donation, and let more people understand, participate in voluntary blood donation.
"I just tried to do my best for the voluntary blood donation to do something practical." Since then, Xu Jun with great enthusiasm to join the volunteer service. The work, whether it is windy or rainy, cold heat, or just after the night shift, as long as there is time, he will ride a motorcycle back in the city, Tangqiao, King Kong, Jinfeng, blood donation, issuance of promotional materials, bread for tea, blood donors, blood donation card distribution, to explain the relevant knowledge of blood donation...... In the street blood donation, blood donation house car Township, blood donation service hall, everywhere left his busy figure.
In Huachang group, Xu Jun led a large number of blood donation volunteers through their own practical action. In his advocacy and encouragement, Zhao Hai, MI Weigang and other colleagues have joined the ranks of the free blood donation.
More let Xu Jun are pleased, not only